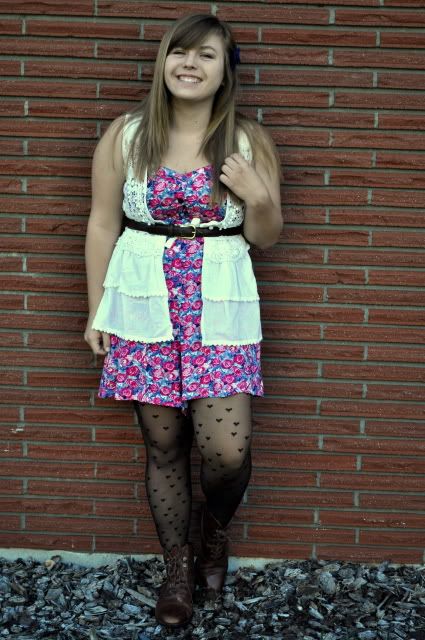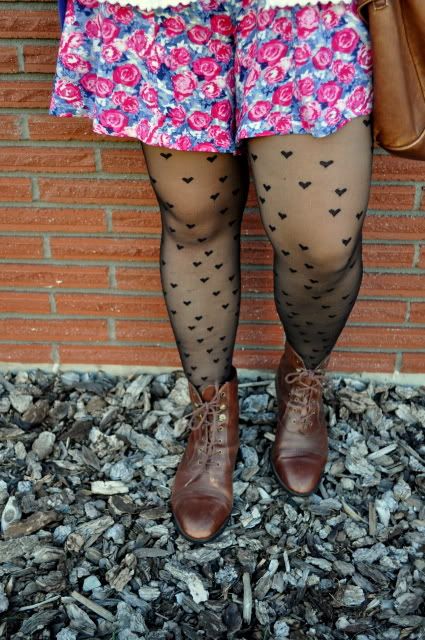 How do you get your inspiration for the outfits you wear ?
This is such a hard question because there is so much that I could say :). I would say I get 95% of my inspiration from all of you bloggers and chictopians! Honestly. If ever I get a case of "I'm bored of my closet" (which is often!), all I have to do is log into chictopia and instantly I find twelve new ways to wear a piece in my own closet. Also, I just get inspiration from any piece in my closet. I can look at a piece one day, and be inspired to throw different things with it until I have five new outfits for that one piece. Street style is another thing that really makes me think about how to wear my clothes and pair colors/textures/pieces together that fits me!
Who has had the biggest fashon influence on your outfits ?
My favorite (but CERTAINLY not limited to!) bloggers have been Tieka from Selective Potential, Niki from Tiny Sailor, Cheyne from In a Sweater Poorly Knit, Sophiasa, Chandra from Modern Day Charm, and Kimberllie from Kimberllie. Honestly, without all of you guys (and very single other chictopian!), I would have never had the boost of creativity to have fun with my clothes.
What made you start posting your pictures on chictopia ?
The first blogger I EVER came across was Tieka and honestly, after receiving the most supportive email in the world from her, I decided to start my own chictopia :). She has absolutely transformed the way I dress!
What blogs and websites do you follow and why ?
Hahah, I sort of just listed all of the fashion blogs I follow, but apart from fashion, I follow Ebony from Ebony and Ivory, Erin from Spreading the Sunshine, Chloe from Butterfly and Daffodils!
Would you describe yourself as a trendsetter or fashion follower ?
Hmm..this is a hard one :). I would say, in the chictopia/blogging world, I am definitely a follower. I try my own things from what I see that inspires me, but it all stems from you all! I wouldn't say I'm a "trend-setter" in school just because my style isn't something commonly found in High School, but I do get many compliments on my tights :).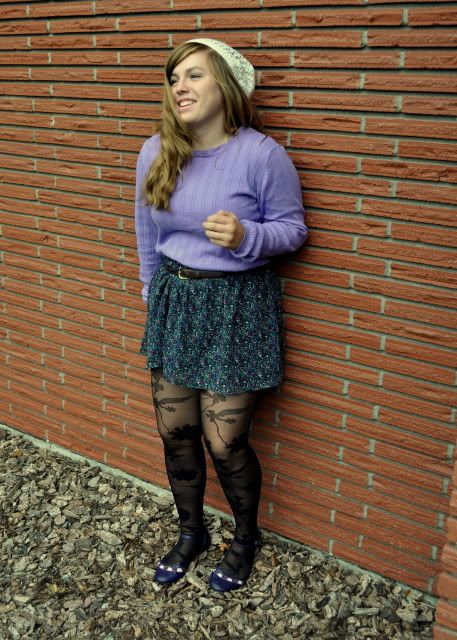 How would you describe your style ?
Ah! This is SO hard for me. I wear what I like and I don't ever feel consistent in how I dress. I love florals and I love bright colors. But at the same time, I love classic pieces too. I would say...I dress very girly and "cutesy".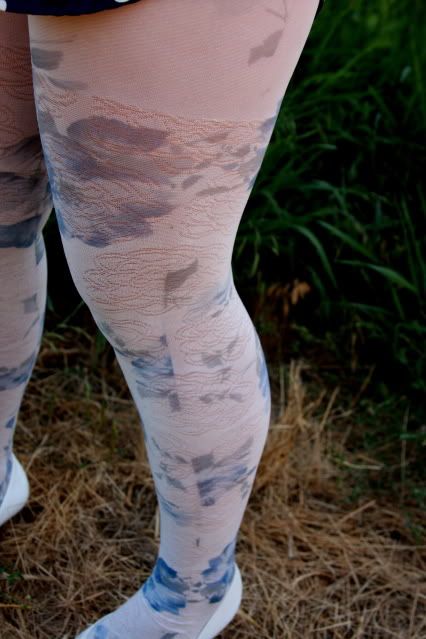 Does the hosiery you wear dictate the clothes,outfit you wear ?
ABSOLUTELY. more than anything else, tights decide the rest of my outfit. I wear tights every single day of the week and they literally inspire my entire outfit!
How do you choose your hosiery ?
I really don't think I choose hosiery...I feel like hosiery chooses me :). I honestly love just about every pair I come across! But... to clarify more precisely, I tend to gravitate for patterned tights. Definitely. Florals, stripes, polka dots... they astound me.
Where do you shop for hoseiry ?
Urban Outfitters tights have been my personal FAVORITE. I love going through their clearance online and picking two, three, or four at a time for the price I would pay for one! I also just tried forever21 tights and adore them too. Modcloth is on my list next!
What was the last item of hosiery you brought, how much you spent etc ?
I bought polka dot sheer tights from forever21 for $4 last weekend :).
Do you prefer sheer or opaque tights,stockings or holdups,socks or kneehighs,sheer toe or reinforced ?
I've never tried socks, knee highs, or toe socks.. I've always stuck with fishnet patterned tights! I just bought sheer tights for the first time, however, and I LOVE them.
Do you ever wear 10 denier tights or sheer hose if so how long do they last you ?
I just bought my first pair of sheer tights, and after two weeks, they already have a run.. :(
How does wearing tights make you feel emotionally ? More feminine,better with girly outfits not thought about it ?
Ahhh! I lovee this question! Tights make me feel...... amazing. They make me feel edgy powerful because so frequently, they are a STATEMENT piece! I love the surprise of the crazy patterns on your legs and I love that they get so much attention! They instantly make any outfit I'm wearing stand out, and I love that.
Do you physically like the feel of tights and touch ? Do your legs ache less, prefer than pants ? not thought about it ?
I used to be a strictly jeans and tee girl...until I found tights. They are downright the comfiest thing to wear, in my opinion. I love the freedom and how they stretch with your body instead of restricting you.
When do you wear hosiery,daily-once a week etc ?
Most weeks, I wear tights every single day. I try to save my skirts and dresses for the school week, however, so typically Saturday and Sundays are my "dress-down" days when I wear jeans.
What is your hosiery staple ?
My floral fishnet and chevron tights from Urban Outfitters. They match EVERYTHING in my closet and are so easy to make outfits from!
What are your style tips for wearing tights ?
My style tips for tights...wear them with everything. Truly. Try them with every single piece in your closet. This includes mixing patterns!! Mixing patterns is truly a blast and you can make a statement so easily by just switching out plain colored tights with some patterns :). Lastly, have fun!
How do you put on tights?
hahaha. This is so excellent! I have a very..interesting routine to putting on tights. Usually, I have to sit on my bed and put them on leg by leg and slide them up my legs inch by inch!
Do you keep a spare pair of tights in your bag ?
This is actually probably an excellent idea, but I can't say I have!
The best and worst things about hosiery, Love-hate ?
The worst thing about hosiery is that you can't wear them in the summer ;). And that they are so hard to take care of. Tights are so susceptible to getting holes and being torn that you have to be careful with them.
The best thing (which FAR outweighs the negitives!) is the simple fact that they are the most versatile thing in a closet (in my humble opinion!). You can wear them with everything!
Do you recycle your tights ?
No, I don't...but maybe I should:).