Here's Laddered tights advice on wearing fishnet tights. Click on the above picture to vist her blog or the link at the bottom.
Yesterday I posted that I was going to start a new feature on the blog so here is the first installment.
A couple of weeks ago, I was contacted and asked for some advice and my opinion on fishnet tights. I do actually own a pair of them but I've only ever worn them for Halloween and a fancy dress gig. I think that they can be quite difficult to wear if you don't feel confident enough to wear them and I think that, for a lot of people, is because of the negative connotations that fishnet tights have attached to them sometimes. I don't think that's the case though.
I've found some images of a couple of celebrities who pull off the look.
I'm not a massive Rihanna fan but I really like her outfit here. A simple LBD with statement shoulders teamed with the boots give the look a quirky Rihanna-spin and I think she looks great.
Gossip Girl Taylor Momsen matches her fluorescent skirt with her lipstick and the biker style boots and leather jacket adds to her rock chick look.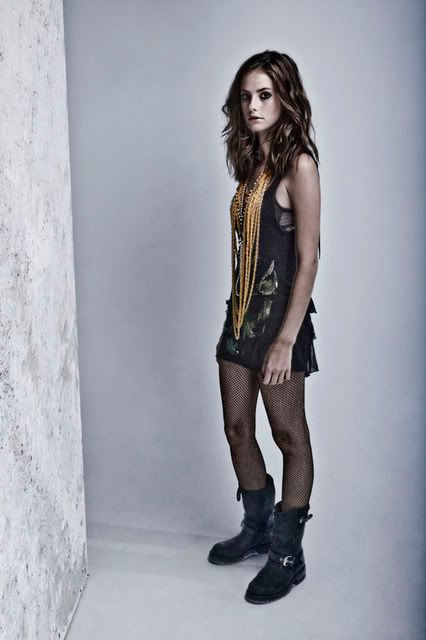 Kaya Scodelario's character in Skins, Effy, often wears her fishnet tights as her style is very edgy and also quite the rock chick style. Effy goes for the "less is more" approach and I personally, love her style.
There is some celebrity influence for you but I put together a couple of outfits too so you know that it's not just people with a lot of money that can wear them!
(note; just ignore the hole and ladder in my tights!)
Black vest top, Ethel Austin; Denim shorts, New Look, Military boots, Wardrobe
Firstly, I actually really like this outfit and I may have to wear it out sometime soon. Secondly, the rips in the tights sort of add to this look I think and makes it a bit more edgy and a little Taylor Momsen-esque.
Black vest top, as before; Heeled studded boots, Matalan
An easy way to turn a casual day outfit into a night outfit. My vest top is really quite long so it can be worn as a dress and then just add some heels and you're away! I wore shoes with studs on to keep the whole edgy-ness appeal.
Black vest top, as before; Denim shorts, as before; Purple tights, Ethel Austin
Some people may not be overly confident with just fishnets so I came up with a solution to that… wearing them on top of coloured tights!
I actually wore them like this for the fancy dress gig I went to the other year (The Hoosiers if you are wondering) but I can't find any photos for you.
I hope this has helped in some way. If there's anything you would like me to feature on "How to wear…" then do leave a comment or email me. Much appreciated.
http://ladderedtights10.wordpress.com/